Knight's Quest
A Special Quest for Kids!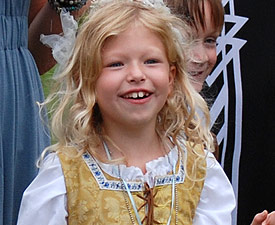 How would you like to be made a knight — by their royal majesties the King and Queen?

Knight's Quest is a special quest for kids at Ren in the Glen.

Your quest: collect 15 different beads from the merchants and street characters in the Glen!

Pick up the string to put your beads on at the ticket booth at the front gate. Then as you wander the faire, ask merchants and street characters if they have any beads.

When you've collected your 15 beads, you're ready to be knighted!

Come to the knighting ceremony to be held starting at 2:15 at the Royal Salon. You will be made a knight in a special ceremony and get a personalized certificate of your knighthood. And you keep the beads!