The Queen's Dragon Egg is Missing!
A Mystery in the Glen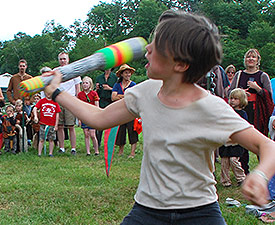 Her Royal Highness Queen Grace has brought a most wondrous treasure - a dragon's egg - to the Glen. She wants to show it to all the folk gathered at the faire. But when she arrives - it's gone!
What has happened to it? Did she misplace it? Did someone steal it? Who? Where?
This mystery will be all around you at the faire. If the egg is lost - perhaps you can find it! It it was stolen - perhaps you can find the culprit! Maybe it was YOU who took it - you DO look a bit suspicious!
Be wary - there are strange characters all around. They're looking for the egg too!